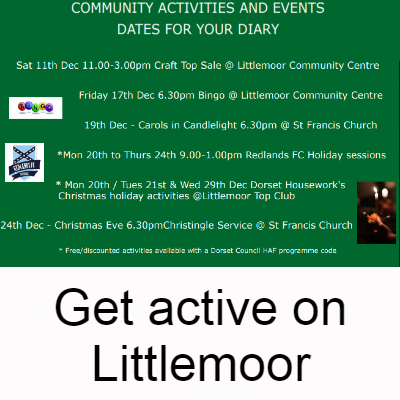 WEEKLY CLUBS AND ACTIVITIES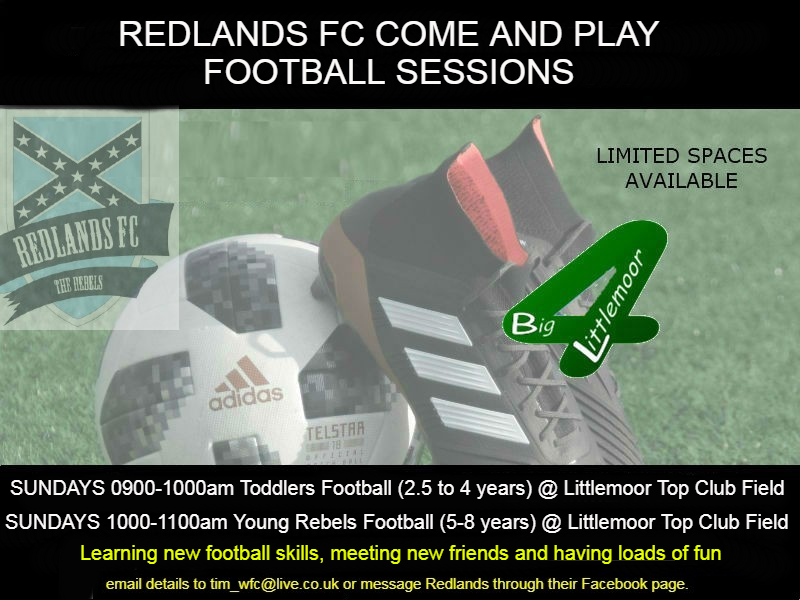 REDLANDS FC WEEKLY FOOTBALL SESSIONS
Redlands FC Weymouth have been working alongside Big 4 Littlemoor to bring FOOTBALL back home as it should be.
Redlands are looking to further develop the week day and weekend sessions they are running at the Top club and will again be returning for the Christmas holiday sessions.
Places are limited so if you would like to guarantee a place please email details to tim_wfc@live.co.uk or message us Redlands on facebook @ .www.facebook.com/WeymouthRedlandsFC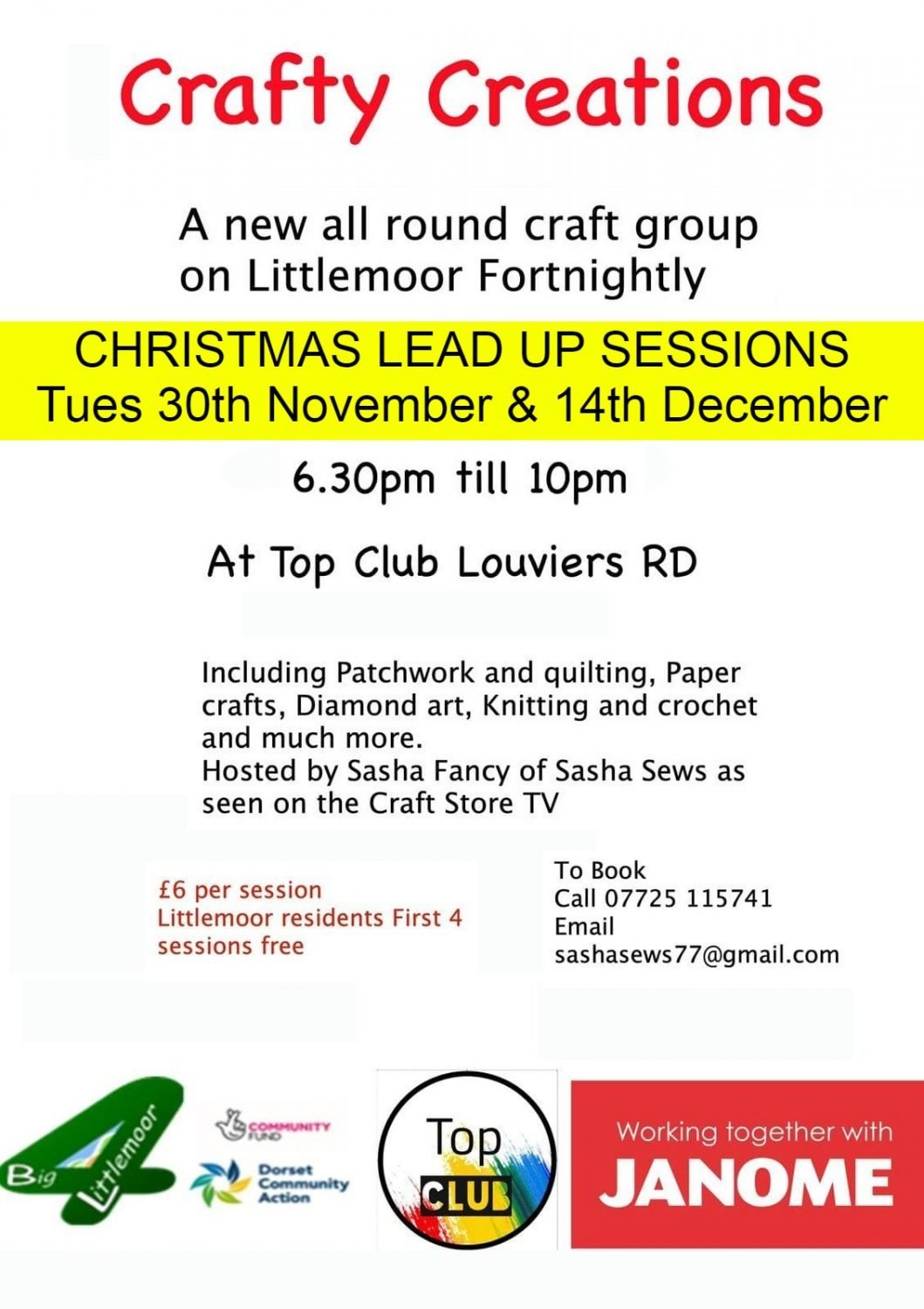 CRAFTY CREATIONS
A all round craft group with Sasha Fancy covering all different crafts, fortnightly on a Tues eve, at Littlemoor youth club i.e. top club on Louviers rd. 
For next craft class on Nov 30th we are going to start our Christmas runner.
You will need
1/2 metre for front borders and binding
1/2 mtr backing
4 to 6 Xmas fat 1/4s depending on how many different fabrics you would like on the runner
HOLIDAY CLUBS & ACTIVITIES
REDLANDS FC CHRISTMAS HOLIDAY SESSIONS 
The ever popular Redlands FC soccer schools of Weymouth are returning for the Christmas holidays from Monday 20th to Thursday 24th December 2021. Sessions will be available again for boys and girls, ages 5-14 years and of all abilities.  
Cost will be £7-50 per day or £30 for the week for non Littlemoor residents and £5 per day or £20 per week for Littlemoor residents.
Places will be limited so if you would like to guarantee a place for your child on any of the weeks please e mail details to tim_wfc@live.co.uk or message us through this Facebook page.
A limited amount of funded spaces are available again in association with a Dorset Council HAF programme code
HOUSEWORKS HOLIDAY ACTIVITIES
•Surprise visitor from The Ranch Weymouth
•Christmas crafts (Make a Magical Snow globe)
•Bouncy Castle
•Yummy free lunch and snacks
•The start of our travelling biggest paper chain of kindness!
•Fancy dress!
•Grotto!
To book text HAF passcode, childs name and dietary/ support needs to 07423555318
**ONLY 9 FREE places left for Monday 20th!** or
£5 per child per session (Adults free) 
More sessions are available on:
Tuesday 21st December
9-1pm & 12-4pm – joint lunch
Bincombe Children's Centre / Littlemoor Youth Club at Top Club
Wednesday 29th December
9-1pm & 12-4pm – joint lunch
Bincombe Children's Centre / Littlemoor Youth Club at Top Club